Our Story
When I was little I used to love playing with my nana's china tea set. Each piece delicate, hand painted with such intricate detail. It was beautiful!
Fast forward 40 years and I still love the ritual of taking tea with my nana. I took inspiration from that tea set when planning my wedding. It was the centre of my mood board. I wanted the reception to feel opulent and for my guests to drink from beautiful china teacups and to feel special.
Unable to find a supplier that cut the mustard, I decided to start my collection.
We had a wonderful afternoon tea for the reception. After the wedding, I couldn't bear to part with my gorgeous china, so I decided to put it to good use. Vintage Tea Party was launched in 2015.
Seven years later we're growing from strength to strength. We now provide an award-winning luxury afternoon tea service.
We feel very privileged to have been part of so many weddings, corporate events, special birthdays and amazing celebrations. We've served royalty and celebrities and met so many wonderful people!
I'm delighted that our hard work and dedication to our clients has resulted in a 5-star rating on Google as well as being recognised by the global wedding awards and several others.
We pride ourselves on offering the best possible service to all of our clients.
If you're planning a vintage-themed wedding, afternoon tea, christening, baby shower, birthday or special corporate event. We'd love to hear from you.
We have something to suit all budgets. We hope you love our vintage china as much as we do.
You can follow our blog where we share recipes and ideas.
Thank you for visiting our website. We look forward to hearing from you soon.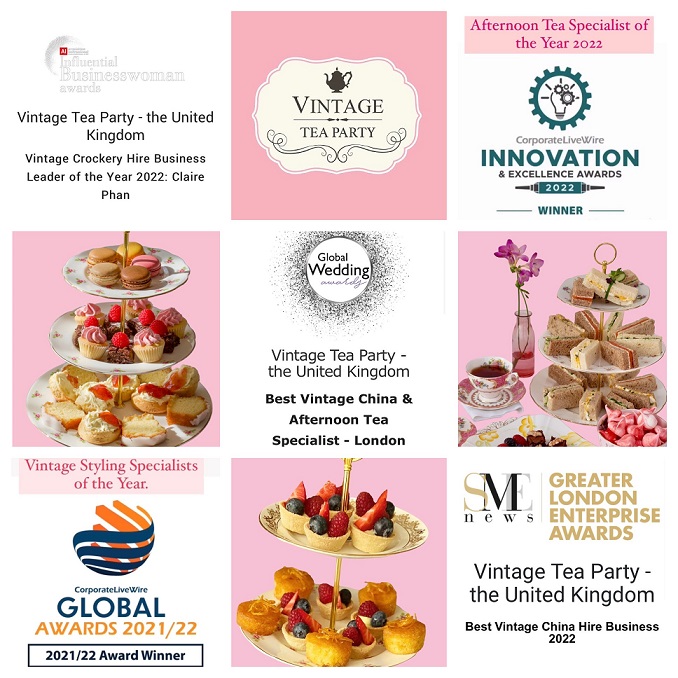 We pride ourselves on offering the best possible service to all of our clients